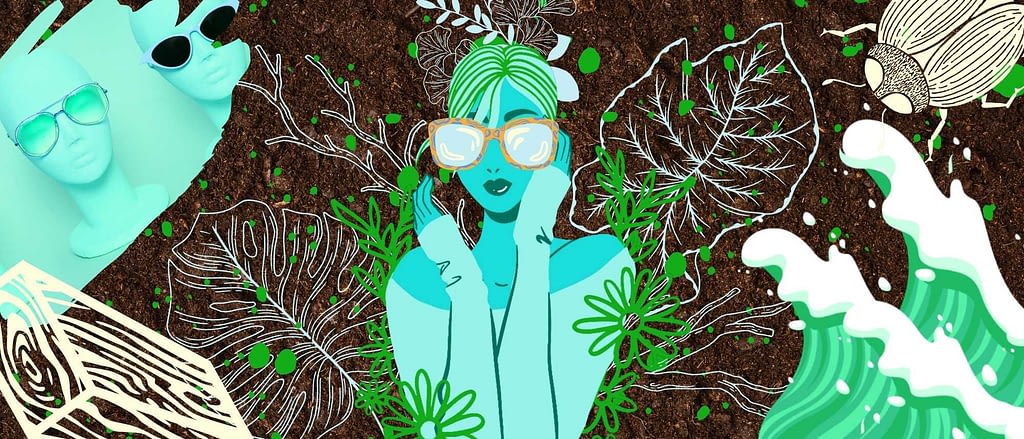 The only constant thing in this world is change. From the most prominent historical events like war, peace, discoveries, technology, to the ever-revolving fashion trend, change has always been in permanent existence. What is both a blessing and a curse about change is that the world does not have a choice but to co-exist with it non-stop—and this constitutes a hugely detrimental impact on the Earth's present condition. 
If this rings a bell to you—you're right—global warming has its way of letting us know that our world and everything in it is getting old. From geomagnetic storm effects, volcanic eruptions, climate change, to massive deforestations, lowering global oil supply, and depleting natural resources, all of these prove that apart from efforts of sustainability, the world wouldn't have much left to use. The fashion industry is one to quickly understand what all of these could mean: that a continuously and the slowly exhausting supply of raw materials could affect the quality of products, prices, and consumer demand.
In the efforts of building a sustainable and more resilient world, the fashion and retail industry came up with ways on how to use alternative natural resources on products without diminishing their quality. Once the technology for sustainable development was trailblazed, a wave of new eco-friendly and green merchandise offerings were poured into the market, particularly in the eyewear industry. 
Sustainable Eyewear: A Fashion Statement Laced With Advocacy
Let's admit it, fashion was initially perceived as glitz and glam, but thanks to independent fashion brands which boldly stepped out of the norm and introduced eco-friendly and recycled products, we now live in a world where fashion and sustainability could co-exist without sacrificing quality. Eyewear fashion is keeping up with this trend. This industry is now largely contributing to the growing fashion's sustainability evolution—and it is spreading like wildfire!
With thousands of independent eyewear brands that offer handmade optical eyewear and sunglasses, people can now spruce up their eyes while becoming a part of a global cause. To give you an idea about the best sustainable eyewear brands in the market today, here are the top 5 ultimate and fashionable eco-friendly eyewear that you can always vouch for quality:
On the top list is probably one of the most distinctive sustainable eyewear brands that offer a collection of 'eyestyle' truly inspired by nature and the environment. The founder of this independent eyewear line, David Green, who hails from South Africa vows to not only produce fashionable eyewear, but to also convey a message: the bring nature to the cities of the world. This advocacy resulted in using the most natural and common elements of nature as product materials. From fallen leaves, twigs, reeds, wood, or mother of pearl to natural cotton-based acetate that undergo careful processing, every pair of eyewear is intricately handcrafted to meet all criteria when it comes to quality, detail, and functionality. 
To ensure that every sustainable eyewear is crafted complying with the safety and eco-friendly standards, the brand chooses coatings with RoHS certification, which means that no harmful materials were used during the production of the eyewear. 
It's amazing how one's love for nature could go thousands of miles reaching customers around the world and making a statement about the importance of the environment; to date, David Green eyewear features 47 different styles and offers at least three color options per frame. You'd be stoked to know that it takes almost a year for a frame to be fully designed, trialed, and completed before market distribution. The conceptualization, attention to detail into each product, and careful engineering are way above par. 
Collections:
David Green offers a wide range of sustainable eyewear collections like optical eyewear, eco-friendly sunglasses, and kids collection. 
Optical Eyewear – David Green Optical Collection has a roster of 126 eyewear products that includes eyewear featuring real nature cotton-based acetate products crafted and designed with materials like willow, real mother of pearl, sunray leaves in cotton, wood + carbon, real cork with cotton acetate, Baturas with real leaves, Balfe with real leaves, chestnut, leaf temples, reed, and Alverstone. 
David and David Green Sunglasses – This new boutique collection is conquering the world of sunnies fashion like no other. The sustainable sunglasses handcrafted in an expression of fearless creativity, functionality, and exceptional comfort really raises the bar when it comes to eyewear fashion. Just like the other David Green eyewear products made and inspired by nature, David and David Green Sunglasses are also carefully crafted with natural materials like real mother of pearl, leaves, and reeds. Even better, all sunnies come with high-quality polarized lenses and are plastic-free. This collection currently has 31 designs on the roster. 
Little Greens Kids Collection – Start them young, they say. What better way to instill a good and lasting advocacy to someone than by allowing him/her to make a statement at a young age. Not only does David Green eyewear encourages people to be a part of saving our planet, but it also is creating an avenue for young ones to make a good fashion statement early! The Little Greens Kids Collection has a selection of eyewear from 12 unique designs like rubber-made frames and eco-friendly acetate materials. 
Overall, there is no doubt that David Green sustainable eyewear makes it to the top list of this content because of how it improves the essence of eyewear fashion while contributing to a global cause. 
From Waste, to Resource. It cannot be denied that our oceans get the worst of plastic pollution in the world; to see some of these wastes getting washed up the shoreline is just a small fraction of the pollution issue that underlies it. This global issue is what prompted and inspired a marine scientist, Harry Dennis, to venture into the eyewear industry with the hopes of contributing to the world of fashion by offering unique, sustainable, recycled eyewear.
The inception of Waterhaul in 2018 was rooted in Harry Dennis' desire to provide a solution in the world's plastic pollution problem by turning abandoned fishing gears, nets, and lethal forms of plastic materials in the ocean into sustainable eyewear products. This is business anchored in good purpose, and by transforming waste into valued resource, Waterhaul is taking the eyewear fashion to the next level. 
Starting off as a social-enterprise of frustrated marine conservationists who collect a yearly pile of used fishing nets from the ocean, Waterhaul came up with a solution to get rid of marine waste by collaborating with mechanical recycling facilities. After grueling months of conceptualization, design trials and errors, manufacturing, and more material failures, Waterhaul finally produced its very first sunglass prototype in November of 2018. And the rest is history.
Today, Waterhaul offers two product categories: eyewear and equipment. For their sustainable eyewear, the brand offers sunglasses, prescription sunglasses, and optical eyewear in the market. And when it comes to questions of sustainability versus quality, Waterhaul can assure its customers that performance and functionality need not be sacrificed. Although the products are made 100% from recycled materials, the eyewear collections are excellently manufactured, the plastic materials are durable, the hinges are firm, and most of all, the designs are sleek. Even better, the frames are designed for ocean adventures with polarized lenses and saltwater-resistant components to maintain top quality for the longest time. Waterhaul also boasts of Barberini Glass lenses for a premium eyewear experience. 
Overall, is this a yay or a nay? Considering its effort to protect the marine environment while producing excellent eyewear products, it's definitely a yay.
When it comes to tracing back the roots and practicing the principle of giving back, there is one sustainable and independent eyewear brand that stands out: Proof Eyewear. It was when three brothers, Tanner, Brooks, and Taylor, who hail from Idaho decided to realize a dream of producing eco-friendly wood consumer products, which led to the birth of Proof Eyewear. Who would have thought that their years of working in the family mill would give a solid foundation in producing sustainable eyewear made from sourced wood, biodegradable cotton-based acetate, and recycled aluminum. 
Since its establishment in 2010, Proof Eyewear took off a steady growth and started expanding in the years after. Founded in valued principles, heritage, and sustainability, and giving back, Proof now stands as one of the pioneers in the sustainable eyewear industry where handcrafted, recycled, and sustainable products definitely upped the standard in eyewear fashion. 
Proof Eyewear offers a collection of sustainable sunwear, optical eyewear, and other merchandise. There is a wide range of products made from sustainable wood, cotton-based acetate, and recycled aluminum. The polarized lenses come in 100% UVA/UVB protection and all products are carefully manufactured to withstand natural wear and tear. The frames range from full-rimmed, semi-rimless, low-bridge, and wired. Shapes also come in round, rectangle, oval, browline, aviator, square, large, and horn. For the optical eyewear collection, Proof offers blue light filtering technology to reduce eye strain, protect from headaches, and improve one's sleep. 
Here's the good catch about Proof Eyewear: since its establishment in 2010, the brand has extended help to different parts of the world as a way of giving back. From providing tsunami relief in Japan, reforestation projects in Haiti, child soldier rehabilitation in Africa, to funding projects in India, Proof Eyewear is a living 'proof' that independent eyewear brands can make a huge impact in global communities. 
Sometimes, a great purpose is ignited by a simple event. This is exactly what happened to Solo Eyewear founder, Jenny Amaraneni, who read Paul Polak's Out of Poverty one simple day. Discovering how the world is short for passionate eyecare professionals and that a billion people do not have access to optical care are what prompted Jenny to team up with her colleague and establish the Solo Eyewear. This independent eyewear brand is living out its purpose: to not only offer chic and fashionable sustainable eyewear products, but to also restore the vision of those who need it. 
To date, Solo Eyewear has restored vision for more than 15,000 people while saving hundreds of pounds of virgin plastic materials. When an eyewear brand exists to truly provide care, it does flourish—like Solo Eyewear. 
If you prefer handmade, sustainable, plant-based sunglasses made in Italy, then this is the right brand for you. Based in Brighton, UK, Pala Eyewear uses bio-acetate as its primary eco-material for its products. While it is teaming up with artisans in Ghana to craft sustainable sunglasses made from recycled plastics, Pala Eyewear is also dedicated to giving back to the community by funding eye care projects in Africa. John Pritchard, the Founder, sees Pala Eyewear not only as a business entity, but also as a channel where visions can be restored for those who don't have access to proper eye care. Their funding projects to vision centers, screening programs, and dispensaries are made possible for every pair of sunglasses sold. 
These sustainable eyewear brands know the true value of fashion statement and it is with their unwavering efforts to conserve, protect, and give back that truly prove how fashion and cause can co-exist without diminishing product quality. Visit our website to check on our latest sustainable eyewear products that are valued at affordable prices!